So…
Book two of a series that I really enjoyed last year comes out this month.
And while I'm terribly excited, I'm also very nervous that the author is going to go somewhere I don't want her to go.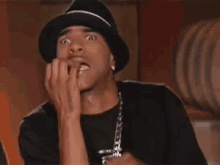 Do I trust this author? Apparently not! Do I like this author? Apparently yes! Because this woman has me on absolute pins and needles as I so love her characters.
So now I must trust the author and hope for the best.
Anyone else ever felt like this? If so, what book? What series?