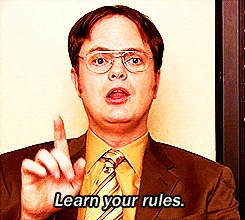 I was reading a book yesterday and something about the premise got me excited, and when I discovered what it was, I realized something: I like rules in my books.
What does that mean?
I like books where there are certain social rules that must be followed. If they are not followed than there are dire ramifications.
What books are those?
Regency novels- I love regency novels, particularly if they deal with the Season.
Paranormal/Fantasy/Sci-Fi-these books almost always have social rules, you just have to learn them first as a reader. A really good author makes you more aware of them then the main character.
YA books: Teens have school and parents and the fact that they are teens in their way.
Historical: Let's face it, social rules in the olden days are different than today.
Time-Travel: I love it when a person from the future must learn to comply with past customs or cultural customs.
If rules are followed, where's the plot?
These kinds of books succeed based upon how well the main character follows the rules, or uses the rules to work for him/her. They can change things, but they must go about it using the customs of their time. It makes the main character feel genuine.
These books completely fail, if the heroine acts like she's from the 21st century when she's not; or the teen somehow has parents who gave them a house of their own, etc. I vastly dislike heroines who are pro women's rights in a time where such a thing was not a thing (I am pro women's rights btw). Or when an author presents a rule based society, but the main character breaks those rules and suffers no repercussions.
Thus, I've learned that there are certain books that just speak to me, and these are it for me (I do like contemporary. But I find I don't read them as much).
What about you? Do you like rules? What speaks to you as a reader?