Prince Stephen came to America to escape responsibility. But what he found complicates his life more than ever.
Corina Del Rey is happy with her life in Melbourne, Florida. She spends her days engrossed in her career as a journalist and has her sights set on climbing the corporate ladder if for no other reason, to distract herself from her dissolving family. But when she is confronted with the past she fought so hard to put behind her, she struggles to make sense of her future.
Prince Stephen of Brighton Kingdom has moved on since the tragic death of his buddies in Afghanistan. A star professional rugby player, he has no intention of looking over his shoulder at what could ve been.
But when a notice arrives in the mail requiring his and his wife s appearance before the courts to dissolve their marriage, he must deal with the questions rumbling around in his heart. He thought his marriage had been annulled long ago, but his memories of Corina Del Rey remain close. Does he still love her? Can he even find her? Above all, can he tell her the truth about that fateful night in Afghanistan seven years ago? If he does, he might really lose her forever."

Place an unpolished lawman named Nicholas Brentwood as guardian over a spoiled, pompous beauty named Emily Payne and what do you get? More trouble than Brentwood bargains for. She is determined to find a husband this season. He just wants the large fee her father will pay him to help his ailing sister. After a series of dire mishaps, both their desires are thwarted, but each discovers that no matter what, God is in charge

A twenty-first-century doctor travels back in time to third-century Carthage to rescue her husband, but the arrival of a deadly epidemic forces her to make an impossible choice in this fast-paced second novel in The Carthage Chronicles series.
Dr. Lisbeth Hastings salvaged two things from her accidental trip to the third century: her mother's stethoscope and her child. Making a life for her daughter Maggie back in the present is difficult, but returning to ancient Carthage is impossible. However, when Lisbeth learns her husband is slated to die a martyr's death, she must find a way around the impossible to save him.
Cyprian Thascius returns from political exile a broken man. He's lost his faith, the love of his life, and his purpose. When Ruth, an old friend, proposes he marry her to restore his position and protect his estate, the disgraced nobleman accepts. But when Cyprian's true love suddenly reappears, his heart becomes as imperiled as the fledgling church.
As Lisbeth and Cyprian reunite to battle a new epidemic and save the oppressed community of Christians, the chasm between the two of them seems too wide to bridge. But when Maggie contracts typhoid, Lisbeth must choose: stay and save the man she loves, or return home and save her daughter?
Filled with gripping action and raw emotion, this incredibly compelling adventure of star-crossed lovers will keep you engrossed with every turn of the page.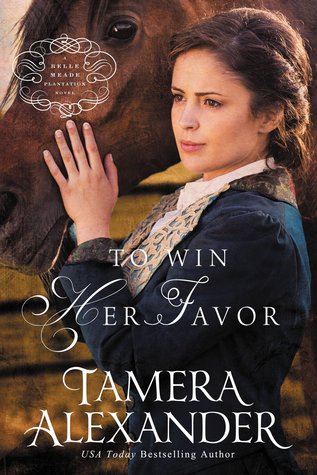 A gifted rider in a world where ladies never race, Maggie Linden is determined that her horse will become a champion. But the one man who can help her has vowed to stay away from thoroughbred racing for good.
An Irish-born son far from home, Cullen McGrath left a once prosperous life in England because of a horse racing scandal that nearly ruined him. He's come to Nashville for a fresh start, hoping to buy land and start a farm, all while determined to stay as far away from thoroughbred racing as possible. But starting over proves harder than he'd wagered, especially when Maggie Linden's father makes him an offer he shouldn't accept yet cannot possibly refuse.
Maggie is certain that her mare, Bourbon Belle, can take the top purse in the annual Drayton Stakes at Nashville's racetrack––the richest race run in America. Maggie only needs the chance to prove it. To give her that chance, and to save Linden Downs from being sold to the highest bidder, Maggie's father––aging, yet wily as ever––makes a barter. His agreement includes one tiny, troublesome detail––Maggie must marry a man she's never met. A man she never would have chosen for herself.
Cullen and Maggie need each other in order to achieve their dreams. But their stubborn, wounded hearts––and the escalating violence from a "secret society" responsible for lynchings and midnight raids––may prove too much for even two determined souls.
Lots to look forward to!